Takumi

with puk and interlink

-- Sold Out -- But expected in again!
Wonderschoon en klinken als een klok  Deze Rik Stoet/Takumi TT level2 is nu bij ons te bezichtigen en te beluisteren Kom snel langs om je licht op te steken over deze unieke aanbieding Neem gerust platen mee we dr...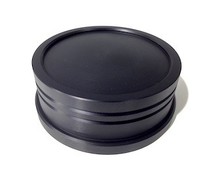 180grams, just as the record itself

-- In Stock --
Takumi record weight puk to reduce vibrations in your record during playing. Weight 180grams, exactly the same as the average quality record. Diameter 80mm, Height 30mm. made from delrin with special insert.
Simple and effective

-- In Stock --
Level Gauge to level your turntable or furniture.
Diameter 40mm height 10mm