10,000 Maniacs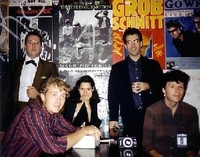 Jangly folk pop band led in the 1980s & early '90s by the dark, distinctive vocals of Natalie Merchant.
 10,000 Maniacs is one of rock's most critically acclaimed bands.  The quintet's pop-conscious, literate and lush aesthetic helped reshape FM radio. Along with bands like R.E.M., U2, The Smiths, and The Police, 10,000 Maniacs is considered one of the primary architects of the college rock sound.
Discography:
1983     Secrets of the I Ching
1985     The Wishing Chair
1987     In My Tribe
1989     Blind Man's Zoo
1992     Our Time in Eden
1997     Love Among the Ruins     
1999     The Earth Pressed Flat
2013     Music from the Motion Picture
2014     Twice Told Tales
1992     Candy Everybody Wants
1993     MTV Unplugged
2006     Live Twenty-Five    
2009     Extended Versions
1x LP 180 gr.33rpm

-- In Stock --
2016 EU repressing on 180g LP- 10,000 Maniacs's breakthrough album and creative high point, In My Tribe offers a survey of social concerns, including child abuse ("What's the Matter Here"), illiteracy ("Cherry Tree"), war ("Gun Shy"), and the...
1x LP 180 gr.33rpm

-- In Stock --
2016 EU repressed on 180g LP-Our Time In Eden is the last 10,000 Maniacs studio album to feature original lead singer Natalie Merchant. The 1992 release is a tremendous work in terms of production and the maturity of the compositions. Everything came...
1x LP 180 gr.33rpm HQ vinyl + Download

-- In Stock --
2013 EU 180 gram vinyl gatefold LP free MP3 download code=Music From The Motion Picture is the first studio offering from 10000 Maniacs since 1999s The Earth Pressed Flat The album is a beautiful affirmation of the bands ...