A-HA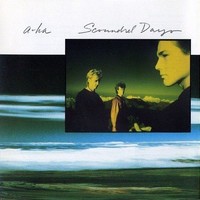 A-HA is a Norwegian band formed in Oslo in 1982. The band was founded by Morten Harket (vocals), Magne Furuholmen (keyboards) and Pål Waaktaar-Savoy (guitars). The group initially rose to fame during the mid-1980s after being discovered by musician and producer John Ratcliff, and had continued global success in the 1990s and 2000s.
H-AH achieved their biggest success with their debut album, Hunting High and Low, in 1985. That album peaked at number 1 in their native Norway, number 2 in the UK, and number 15 on the US Billboard album chart; yielded two international number-one singles, "Take On Me" and "The Sun Always Shines on TV"; and earned the band a Grammy Award nomination as Best New Artist. In the UK, Hunting High and Low continued its chart success into the following year, becoming one of the best-selling albums of 1986.
Studio albums:
Hunting High and Low (1985)
Scoundrel Days (1986)
Stay on These Roads (1988)
East of the Sun, West of the Moon (1990)
Memorial Beach (1993)
Minor Earth Major Sky (2000)
Lifelines (2002)
Analogue (2005)
Foot of the Mountain (2009)
Cast in Steel (2015)
1XLP 180g 33rpm+MP3

-- Sold Out -- But expected in again!
released in 1985-2015 EU repressed on 180g LP+MP3 -the band's fine debut, including "Take On Me," "The Sun Always Shines on TV," "Train of Thought" and "Hunting High and Low."