ABBA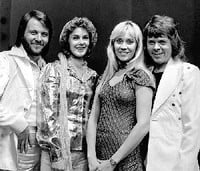 ABBA
is one of the most successful bands in the world with over 200 million albums sold (and over 370 million records in total). The success began in 1974 when ABBA won the Eurovision Song Contest with the song Waterloo. Manager of the group was Stig Anderson.
Discography
    Ring Ring (1973)
    Waterloo (1974)
    ABBA (1975)
    Arrival (1976)
    The Album (1977)
    Voulez-Vous (1979)
    Super Trouper (1980)
    The Visitors (1981)
1x LP 180 gr.33rpm + download

-- In Stock --
2011 EU reissue edition 7track LP pressed on audiophile quality 180gram Vinyl and issued as part of the Back To Black 60th Vinyl Anniversary series originally released in 1977 and featuring the single releases Take A Chance On Me and The Name Of The ...
2XLP 180g 33rpm+download

-- In Stock --
2014 reissue on 180g 2LP-If you only own one ABBA record it's probably this one. ABBA's 19-song Gold collection was the first hits compilationand, appearing after a period of several years in which their music had been off the market, was a welcome...
1x LP 180 gr.33rpm HQ vinyl + Download

-- In Stock --
2011 EU repressiong on 180g- the sixth studio album(1979) from one of the most famous popgroups of all time plus the first ABBA album to be recorded at Polar Studios Stockholm. Includesthe massive titletrack hit plus Does Your Mother Know and Chiquit...