Al Di Meola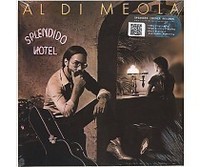 Al Di Meola (Jersey City, July 22 1954) is an American fusion guitarist. He was a member of Chick Corea's band Return to Forever, and played with, among others, Paco de Lucia, Herbie Hancock and Gonzalo Rubalcaba. He plays mostly acoustic, but always with the plectrum. He decorates his performances regularly with various omlijstende show effects.
Albums:
1976 - Land of the Midnight Sun (Columbia/Sony)
1977 - Elegant Gypsy (Columbia/Sony)
1978 - Casino (Columbia/Sony)
1980 - Splendido Hotel
1982 - Tour De Force - Live
1982 - Electric Rendezvous
1983 - Scenario
1985 - Soaring through a Dream
1985 - Cielo E Terra
1987 - Tirami Su
1990 - World Sinfonia (Tomato/in-akustik)
1991 - Kiss my Axe (inak/in-akustik)
1993 - World Sinfonia II - Heart of the Immigrants 
1994 - Orange and Blue (Gold)
1996 - Rite of Strings
1996 - Al Di Meola plays Piazzolla (Blue Moon/East West)
1998 - The Infinite Desire (Telarc/in-akustik) (Gold)
1999 - Winter Nights (Gold)
2000 - The Grande Passion (Gold)
2000 - World Sinfonia - The Grande Passion
2002 - Fugata
2002 - Flesh On Flesh (Gold)
2006 - Consequence Of Chaos
2006 - Vocal Rendezvous
2007 - Diabolic Inventions and Seduction for Solo Guitar, Volume I, Music of Astor Piazzolla
2008 - La Melodia - World Sinfonia
2011 - Pursuit of Radical Rhapsody (Release in Europa: April 2011) 
2013 - All Your Life - A Tribute To The Beatles (Gold)
2015 - Elysium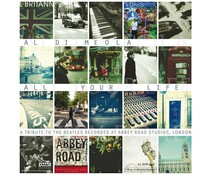 2x LP 180 gr. 45rpm

-- Sold Out -- But expected in again!
2013 EU issue on 180g 2xLP 45RPM vinyl=The thundering power of high energy rock fuelled fusion, the subtly woven sounds of Latin American music and folk in particular the music of his Argentinian friend and inspiration Astor Piazzolla, the breathtaki...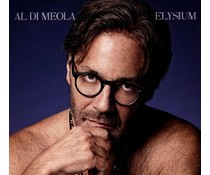 2x LP 180g 45rpm

-- Sold Out -- But expected in again!
2015 EU issue on 180g 2xLP 45RPM vinyl=He came from the 'Land Of The Midnight Sun', sparkled on the jazz-rock stage as an 'Elegant Gypsy', came up trumps in the 'Casino' with all the right chords and melodies, and his 'Splendido Hotel' was th...
1x LP 180 gr.33rpm Virgin Vinyl = Remastered=

-- In Stock --
(Originally released in 1977)2013 EU vinyl LP issue pressing on 180gram audiophile vinyl=Al DiMeolas second album Elegant Gypsy 1977 proved to become one of the defining albums in Fusion While being still a member of Retur...