Alan Parsons Project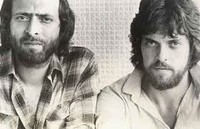 The Alan Parsons Project
was a British progressive rock band, active between 1975 and 1990, consisting of Eric Woolfson and Alan Parsons surrounded by a varying number of session musicians and some relatively consistent band members such as guitarist Ian Bairnson.
Behind the revolving line-up and the regular sidemen, the true core of the Project was the duo of Parsons and Woolfson. Woolfson was a songwriter by profession, but also a composer and pianist. Parsons was a successful producer and accomplished engineer. Almost all songs on the band's albums are credited to "Woolfson/Parsons".
Discography:
    Tales of Mystery and Imagination (1976)
    I Robot (1977)
    Pyramid (1978)
    Eve (1979)
    The Turn of a Friendly Card (1980)
    Eye in the Sky (1982)
    Ammonia Avenue (1983)
    Vulture Culture (1984)
    Stereotomy (1985)
    Gaudi (1987)
    The Sicilian Defence (2014) This album was recorded and shelved over 30 years ago. It has been released as part of the 2014 A.P.P. box-set.
1x LP 180 gr.33rpm

-- In Stock --
(Originally recorded in 1977)2017 EU repressing on 180 LP-the 2nd album The British progressive rock band Alan Parsons Project was active between 1975 and 1990
The Project consisted of Eric Woolfson and Alan Parsons surroun...
1x LP 180 gr.33rpm LP

-- In Stock --
2007 EU German Spakers Corner reissue on 180g LP- featuring " Eye In The Sky," "Old & Wise " Songs on this album are in a number of different styles, from cool and funky to lyrical and heavily orchestrated. The Hipgnosis-designed sleeve is green with an i
1x LP 180 gr.33rpm audiophile Vinyl = Remastered=

-- In Stock --
2011 Speakers Corner reissue on 180gram VIRGIN VINYL=With two of Alan Parsons Project s best songs the lovely ballad Time and the wavy sounding Games People Play The Turn of a Friendly Card remains one of this group s most enjoyable al...