Allman Brothers Band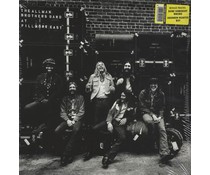 2x LP 180g 33rpm

-- In Stock --
2016 EU repressed on 180g 2LP-Considered by many to be the greatest live recording of all time, this classic album by the Allman Brothers was recorded at the pinnacle of their success. In 1971, the Allman Brothers were already one of the most popular...
2x LP 180g 33rpm

-- In Stock --
2016 EU repressed on 180g 2LP=Tributes to fallen icons don't come any more poignant or illustrative than Eat a Peach. Released in early 1972, slightly more than three months after guitarist Duane Allman died in a motorcycle accident, the double albu...
2x LP 180 gr.33rpm =gatefold=

-- Sold Out -- But expected in again!
2018 EU issue on 180g 2LP - Selection of songs summarizing the career of the band featuring "Dreams", "In Memory Of Elizabeth Reed", "Ramblin'Man", "Jessica", "Win, Lose Or Draw" and tracks from The Allman Joys, The Hour Glass, Duane Allman & Gregg Allman