Amos Lee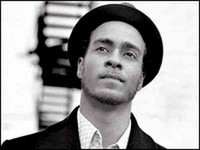 Amos Lee (1977-) is an American singer-songwriter whose musical style encompasses folk, rock and soul. He was born in Philadelphia and graduated from the University of South Carolina with a degree in English. After working as a schoolteacher and bartender he began to pursue a career in music. His manager submitted a demo recording to Blue Note Records which resulted in a recording contract and an association with singer Norah Jones.
Since that time Lee has recorded five albums on Blue Note Records and has toured as an opening act for Norah Jones, Bob Dylan, Elvis Costello, Paul Simon, Merle Haggard, Van Morrison, John Prine, Dave Matthews Band, Adele, the Zac Brown Band, Jack Johnson, and The Avett Brothers. His music has appeared on the soundtracks of numerous TV shows and movies. He has performed on several late night TV shows and at a voter registration rally for Barack Obama. In 2011, his album Mission Bell debuted at No. 1 on the Billboard 200 chart.
Discography:
2005 - Amos Lee
2006 - Supply and Demand
2008 - Last Days at the Lodge
2011 - Mission Bell
2013 - Mountains of Sorrow, Rivers of Song
1x 180gram vinyl 33rpm LP+ download

-- Sold Out -- But expected in again!
2011 US Blue Note 12track 180g vinyl LP+ download edition -Amos Lee has completed recording Mission Bell, his fourth album for EMI's Blue Note Records, and his richest and most fully formed album to date. Mission Bell, which was produced by Joey Bur...
1x LP 180 gr.33rpm audiophile Vinyl

-- In Stock --
(Originally released in 2005)2014 EU reissue vinyl LP edition, pressing on 180gram audiophile vinyl -Amos Lee is the self-titled debut album by American singer-songwriter Amos Lee, released by Blue Note Records in 2005. The songs on the album incorpo...
1x LP 180g 33rpm

-- In Stock --
2013 Blue Note EU issue on 180g LP =his fifth studio album, 2013's Mountains of Sorrow, Rivers of Song, Lee delves even further into a lyrical country style on what are some of his most heartfelt songs to date.