Art Blakey/Art Blakey and the Jazz Messengers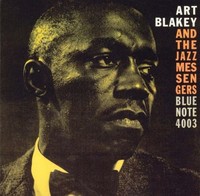 1x LP 180 gr.Limited = on 100% Pure Virgin Vinyl=JAPAN

-- In Stock --
Originally released in 1958 - 2014 Japanese reissue on Genuine 180g 100% Pure vinyl, Newly Blended colourless Virgin Vinyl, Pressed Directly From "Metal Master" " Direct Transger Cutting" From DSD edit master = One of the most beloved recordings ...
1x LP 180 gr.33rpm HQ vinyl

-- Sold Out -- But expected in again!
2012 EU repressed on 180g vinyl =One of the most beloved recordings of all time, Moanin' is one of the few albums where listeners actually remember where they were the first time they heard it. Art Blakey's Jazz Messengers had been formed in 1955 ...
1x LP 180g 33rpm + bonus CD

-- In Stock --
2013 EU repressed on 180g LP+bonus CD= featuring a previously unreleased concert recording from the Deutsches Museum Munich in November 1959 with Lee Morgan Wayne Sorter Walter Davis & Jymie Merritt stellar lineup complete with bonus CD of the record...