AudioSlave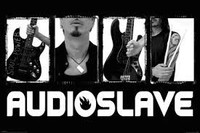 Audioslave was an American hard rock supergroup that was formed in Los Angeles in 2001. The band consisted of Soundgarden frontman Chris Cornell and the instrumentalists of Rage Against the Machine guitarist Tom Morello, bassist Tim Commerford and drummer Brad Wilk. Critics saw the band initially as an amalgamation of Rage Against the Machine and Soundgarden, [1] but with their second album Out of Exile suggested the band its own identity.


Albums:
2002 Audioslave
2005 Out of Exile
2006 Revelations
2x LP 180g 33rpm

-- Sold Out -- But expected in again!
2010 EU repressed on 180g 2LP =the fantastic 2003 debut from the American supergroup consisting of former Rage Against The Machine members Tom Morello, Tim Commerford and Brad Wilk joined by Chris Cornell formerly of Soundgarden. Includes hits "Cochise,"