Blackfield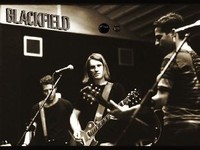 1x LP 180 gr.

-- In Stock --
2011 EU issue on 180g LP-the third studio album by Blackfield - On Welcome to My DNA, their third studio album, Aviv Geffen and Steven Wilson of Blackfield continue to pursue their neo-progressive Pink Floyd-meets-Tears for Fears sound, overlaying it...
1x LP 180g+bonus 12inch

-- Sold Out -- But expected in again!
2013 EU reissue on 180g LP+12inch -the debut album by the art rock band featuring Steven Wilson, and Israeli rock singer Aviv Geffen, originally released in 2004, this edition comes with a bonus 12" which features Perfect World and Feel So Low; gate...