Bo Diddley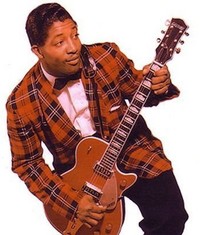 Bo Diddley
, was an American R&B vocalist, guitarist and songwriter (usually as Ellas McDaniel). He was also known as The Originator because of his key role in the transition from the blues to rock, influencing a host of acts, including Buddy Holly, Jimi Hendrix, The Rolling Stones, Pink Floyd, The Velvet Underground, The Who, The Yardbirds, The Jesus and Mary Chain
, Eric Clapton
,
Elvis Presley
, and
The Beatles
, among others.He introduced more insistent, driving rhythms and a hard-edged electric guitar sound on a wide-ranging catalog of songs, along with African rhythms and a signature beat (a simple five-accent clave rhythm) that remains a cornerstone of rock and pop. Accordingly, he was inducted into the Rock and Roll Hall of Fame and received Lifetime Achievement Awards from the Rhythm and Blues Foundation and a Grammy Award from the National Academy of Recording Arts and Sciences. He was known in particular for his technical innovations, including his trademark rectangular guitar.
Important albums:
Bo Diddley (1958)
Go Bo Diddley (1959)
Have Guitar Will Travel (1960)
Bo Diddley in the Spotlight (1960)
Bo Diddley Is a Gunslinger (1960)
1x LP 33rpm vinyl

-- In Stock --
(Originally released in 1959)2012 EU limited edition 12track vinyl LP=His second 1959 longplay effort only adds a go to his classic debut refining his trademark square guitar and crazydistorted amplification to create new sounds anticipating the inno...