Bob Marley & The Wailers
1x LP 180g vinyl 33rpm

-- In Stock --
originally released in 1978-2013 EU reissue on 180g audiophile LP Kaya. The album finds Bob Marley & The Wailers truly capitalizing on their newfound international success with classics like "Is This Love," "Sun Is Shining," "Time Will Tell" a...
1x LP 180g+ MP3 download=Island 50st anniversary=

-- Sold Out -- But expected in again!
2009 EU reissue on 180g audiophile vinyl LP +MP3 downlaod- Island 50 years version -The classic Bob Marley Best Of album, Legend collects the reggae pioneer's greatest genre-defining songs, running the gamut from "I Shot the Sheriff" to the medita...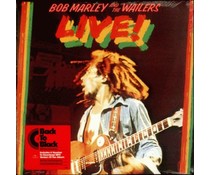 1x LP 180g .33rpm + Download

-- In Stock --
2013 EU reressed on 180g LP- 1975 and features live versions of Trenchtown Rock No Woman No Cry I Shot The Sheriff & Get Up Stand Up Presented in a sealed picture sleeve complete with a voucher to enable the listener to download an MP3 version of the...