Cars, the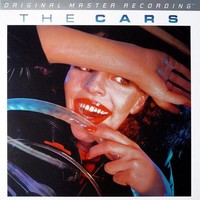 The Cars are an American rock band that emerged from the new wave scene in the late 1970s. The Cars were at the forefront in merging 1970s guitar-oriented rock with the new synth-oriented pop that was then becoming popular and which would flourish in the early 1980s. The Cars' debut album was called a "genuine rock masterpiece" by Allmusic.
The most successful and well known song from the album,
"Just What I Needed",
Albums:
    1978 -
The Cars   
1979
- Candy-O
    1980 - Panorama
    1981 -
Shake It Up
    1984 - Heartbeat City
    1987 - Door to Door
    2011 - Move Like This
Live:
    1985 - The Cars Live 1984-1985
Compilation:
    1985 - Greatest Hits
    1995 - Just What I Needed: The Cars Anthology
    2001 - Shake It Up & Other Hits
    2002 - Complete Greatest Hits
    2005 - The Essentials
    2008 - Classic Tracks
1x LP 180 gr. HQ numbered

-- In Stock --
originally released in 1979-2009 US exclusive strictly limited edition GAIN 2 Ultra Analog Half Speed Mastered LP pressed on 180gram VIRGIN VINYL - The Cars 1979 Sophomore Album a MustHear NewWave Classic superbly presented in deluxe individually nu...