Cream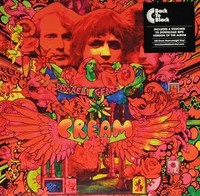 1x LP 180g 33rpm vinyl+download

-- Sold Out -- But expected in again!
2015 EU reissue on 180g LP+download -It was the landmark record Disraeli Gears, that turned Cream into the greatest super group of all time and the one against, which all others would be compared to after. The albums masterful blend of psychedelic b...
2XLP 180g vinyl 33rpm+download

-- In Stock --
Orginally released in 1968 -2015 EU reissue on 180g vinyl +download -the strongest album of Cream's all-too-short existence. Cream's third full-length offering Wheels of Fire went on to redeem itself on the merit of "White Room" alone which not o...
1XLP 180g heavyweight vinyl+download

-- In Stock --
2014 EU reissue on 180g LP -Best of Cream (1969) is the band's first ever anthology, a then fresh 10-track overview of Cream's hit singles and signature cuts including "Sunshine of Your Love," "White Room," "Crossroads," "Strange Brew," and "Spoonful" amo