D angelo / D'angelo
2xLP 180g 33rpm +download

-- In Stock --
(originally released in 2000)2015 EU reissue on 180g vinyl 2XLP+ Download-D'Angelo made his welcome return 5 years later with his platinum-plus 2000 sophomore album Voodoo. The album's roots are in 1960s, '70s and '80s funk and soul; a nostalgic nod...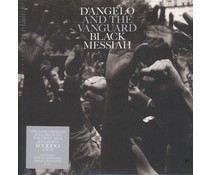 2xLP standard 33rpm + download=gatefold

-- In Stock --
2015 EU issue on 2xLP+ download -as the year's best soul album, The wait is finally over! D'Angelo and The Vanguard's highly anticipated and much buzzed about brand new album, Black Messiah, is upon us courtesy of RCA Records. Nearly 15 years in the ...