Dire Straits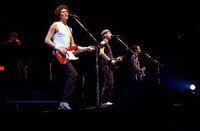 Dire Straits
(1977-1995) was a British rock band as far known member singer-guitarist-songwriter Mark Knopfler. The band is known for, among other songs like Sultans of Swing, Private Investigations, Brothers in Arms and Money for Nothing.
The band immediately had great success with his debut album and the single Dire Straits Sultans of Swing. Brothers in Arms was published in 1985, one of the first records fully digitally recorded. The album is 269 weeks in the Dutch Album Top 100 for the longest album ever recorded, though these are not consecutive weeks.
Eric Clapton has admitted an inferiority complex because of Knopfler's majestic guitar stylings.
Dire Straits: will there ever be a better band?
"Dire Straits is the only band that plays like an organic whole" -- Bob Dylan.
Discography:
    Dire Straits (1978)
    Communiqué (1979)
    Making Movies (1980)
    Love over Gold (1982)
    Alchemy (1984, live)
    Brothers in Arms (1985)
    Money for Nothing (1988, compilation)
    On Every Street (1991)
    On the Night (1993, live)
    Live at the BBC (1995, live)
    Sultans of Swing: The Very Best of Dire Straits (1998, compilation)
    Private Investigations (2005, compilation)