Eric Clapton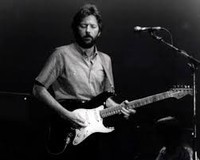 Eric Clapton is an English musician, singer and songwriter. He is the only three-time inductee to the Rock and Roll Hall of Fame: once as a solo artist and separately as a member of the Yardbirds and Cream. Clapton has been referred to as one of the most important and influential guitarists of all time. Clapton ranked second in Rolling Stone magazine's list of the "100 Greatest Guitarists of All Time" and fourth in Gibson's "Top 50 Guitarists of All Time".
In the mid-1960s, Clapton left the Yardbirds to play blues with John Mayall & the Bluesbreakers. Immediately after leaving Mayall, Clapton joined Cream, a power trio with drummer Ginger Baker and bassist Jack Bruce in which Clapton played sustained blues improvisations and "arty, blues-based psychedelic pop." For most of the 1970s, Clapton's output bore the influence of the mellow style of JJ Cale and the reggae of Bob Marley. His version of Marley's "I Shot the Sheriff" helped reggae reach a mass market. Two of his most popular recordings were "Layla", recorded by Derek and the Dominos, another band he formed, and Robert Johnson's "Crossroads", recorded by Cream. Following the death of his son Conor in 1991, Clapton's grief was expressed in the song "Tears in Heaven", which featured in his Unplugged album.
Clapton has been the recipient of 17 Grammy Awards, and the Brit Award for Outstanding Contribution to Music. In 2004, he was awarded a CBE at Buckingham Palace for services to music.
Solo Studio Albums:
    Eric Clapton (1970)
    461 Ocean Boulevard (1974)
    There's One in Every Crowd (1975)
    No Reason to Cry (1976)
    Slowhand (1977)
    Backless (1978)
    Another Ticket (1981)
    Money and Cigarettes (1983)
    Behind the Sun (1985)
    August (1986)
    Journeyman (1989)
    Rush (soundtrack album) (1992)[149]
    From the Cradle (1994)
    Pilgrim (1998)
    Riding with the King (with B.B. King) (2000)
    Reptile (2001)
    Me and Mr. Johnson (2004)
    Sessions for Robert J (2004)
    Back Home (2005)
    The Road to Escondido (with JJ Cale) (2006)
    Clapton (2010)
    Old Sock (2013)
2x LP 180g 33rpm

-- In Stock --
2016 EU repressed on 180g 2xLP=1992's winner of 6 Grammys including Album Of The Year and Song Of The Year. Poignant Acoustic Landmark Includes a Heartbreaking "Tears In Heaven" and a Rearranged "Layla"
2x LP 180gr 33rpm

-- Sold Out -- But expected in again!
Orginally released in 2000 - 2014 EU reissue 2LP on HQ 180gram vinyl-the 2000 Grammy Award Album including Three O'clock Blues, Days Of Old, Come Rain Or Come Shine & Worried Life Blues. Housed in a gatefold picture sleeve.

Tracks:
A1 Riding Wi...
1x LP 180 gr.33rpm HQ vinyl + Download

-- Sold Out -- But expected in again!
(Originally released in 1977) 2012 Eu reissue for 35th Anniversary Edition on 180g LP. Re-Mastered from the Original Olympic Studios 1/4" Flat Analog Master Tapes by Kevin Reeves at Sterling Sound. Slowhand was the nickname given to Clapton by th...