Erroll Garner
2x LP 180g 33rpm

-- In Stock --
(Orginally released in 1955)2014 EU reissue on 180gram audiophile virgin Vinyl LP Edition = Concert By The Sea is Erroll Garner's widely acclaimed pièce de résistance. A mixture of originals, show biz, and pop standards are delivered with his unique...
1x LP 180g 33rpm

-- In Stock --
2013 EU reissue on 180 LP=Classic Savoy Records vinyl reissue of Penthouse Serenade, trio recordings from one of jazz's most distinctive and beloved piano stylists, Erroll Garner. The 14-track offering is culled from sessions Garner recorded in 1945...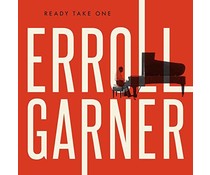 1x LP 180g 33rpm

-- In Stock --
2016 EU issue on 180g 2LP = Now, after 25 years, we have Erroll Garner: Ready Take One—a newly issued 14-song album of previously unreleased material recorded between 1967 and 1971 with fairly consistent bassists and drummers behind him.