Fela Kuti/Fela Kuti & Africa 70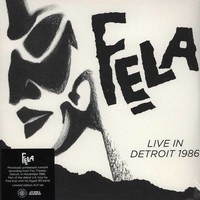 Fela Kuti (1938 – 1997), also known as Fela Anikulapo Kuti or simply Fela, was a Nigerian multi-instrumentalist, musician, composer, pioneer of the Afrobeat music genre, human rights activist, and political maverick.
Albums:
Fela's London Scene (1970)
Live! (1971)
Shakara (1972)
Confusion (1975)
Monkey Banana (1975)
Upside Down (1976)
Yellow Fever (1976)
Na Poi (1976)
No Agreement (1977)
Zombie (1977)
Stalemante (1977)
Oppsite People (1977)
Sorrow Tears and Blood (1977)
Authority Stealing (1980)
Original Suffer Head (1984)
Army Arrangement (1984)
Live in Amsterdam (1985)
Music of Many Colours (1986)
Teacher Don't Teach Me Nonsense (1987)
Beasts of No Nation (1989)
Odoo (1989)
Black Man's Cry (1992)
Underground System (1992)
The '69 Los Angeles Session (1994)
Buy Africa (1997)
Music Is The Weapon Of The Future (1998)
Lagos Baby 1963-1969 (2007)
Live In Detroit 1986 (2012)
1XLP standard 33rpm vinyl

-- In Stock --
2014 EU reissue on standard LP-Over a decade a half after his death, vindication has come to Fela Kuti, Africa's musical genius. AfroBeat, his gift to the world, is now an international staple on his own uncompromising terms, social content intact. T...
1XLP standard 33rpm vinyl

-- In Stock --
2016 EU reissue on standard LP-Upside Down and Zombie, both released in 1976, were made at the mid-point of an extraordinary three-year period during which Fela recorded 24 albums of new material. Upside Down - meaning back home in Africa everything ...