Hank Williams
1x LP 180 gr.33rpm

-- Sold Out -- But expected in again!
2014 EU reissue on 180g LP-This double LP includes such number 1 hits as "Lovesick Blues", "Jambalaya (On The Bayou)", "Kaw-liga" and "Your Cheatin' Heart". This anthology is the perfect starting point for newcomers to Hanks Williams' recor...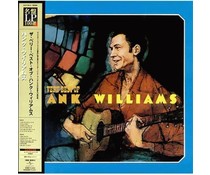 1x LP 200g 33rpm limited japan pressing

-- In Stock --
2007 Japanese exclusive strictly limited edition 12track LP pressed on 200gram VINYL a superb Greatest Hits collection from one of the most iconic figures of the 20th century superbly presented in high quality pasted card picture sleeve with lyric in...
1x LP 180 gr. HQ

-- Sold Out -- But expected in again!
2012 EU reissue pressed on 180g virgin vinyl LP= Sing Me A Blue Song(1957) is the third of five albums that represent a complete chronological retrospective 1946-1951 of the man who revolutionized not only country music but pop music in general.