Jack White( White Stripes)
2x LP 180g 33rpm

-- In Stock --
2018 EU issue on 180g LP= Boarding House Reach is the third solo album from Jack White, a man who really should need no introduction by now. Where 2014's 'Lazaretto' was a cohesive and indulgent gothic collage of country, soul, Americana and rock, 'Board
2x LP 180g 33rpm

-- In Stock --
2016 EU issue on 180g 2LP='Jack White Acoustic Recordings 1998-2016' is the definitive Jack White songwriting collection, spanning his 20+ year career. It includes White's acoustic-based recordings with the White Stripes, the Raconteurs, and his a...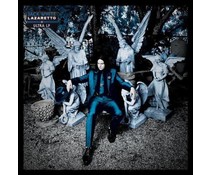 1x LP 180g +download= ultra edition

-- In Stock --
2014 EU issue on 180g LP+download- 2015 Grammy Award Winner for Best Rock Performance - "Lazaretto". Jack White returns with his highly anticipated second solo album Lazaretto, to be issued June 2014 on Third Man Records/Columbia. Lazaretto's 11-t...