Jethro Tull
1XLP 180g 33rpm+download=vinyl colletor=

-- In Stock --
Originally released in 1971=2015 EU reissue on 180g vinyl+ download=New 2015 Pressing Mastered from Steven Wilson's 2011 40th Anniversary Stereo Mixthe stunning forth album showcasing come fine, eclectic writing and although not classed as the true ...
1x LP 180g 33rpm vinyl = 2013 mix by Steven Wilson - DMM CUTTING =

-- In Stock --
Orginally released in 1970-2013 EU reissue on 180g vinyl 2XLP -NEW 2013 STEREO MIX by Steven Wilson - Cut with direct metal mastering / 180 gram heavyweight vinyl.Comes with a printed cardboard inner sleeve. Recorded at Morgan Studio, London.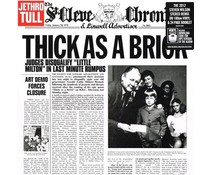 1XLP 180g 33rpm+download=vinyl colletor=stev

-- In Stock --
2015 EU reissue The 2012 Steven Wilson Remix: on 180g LP+Download-Born from a desire to really produce a concept album after the rock critics so dubbed the previous year's Aqualung, Jethro Tull's 1972 masterwork Thick As A Brick features one continu...