Jett Rebel
1x LP 180g 33rpm

-- In Stock --
2017 EU issue on 180g LP-After the experimental album Truck and rock-orientated album Don't Die On Me Now, the upcoming album is now his third album release in just one year. The hit song "All The Way" has just been released and shows a great pros...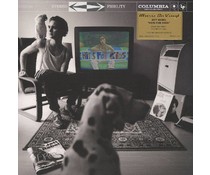 1x LP 180g 33rpm + bonus CD

-- In Stock --
2014 EU issue on 180g LP+CD= Debuting with 14 psychedelic, pure Pop songs that tell the story of his coming-of-age, Jett Rebel's first full-length album is called Hits For Kids. Everything on the album has been written, composed and played by himsel...
2x LP 180g 33rpm+ download

-- In Stock --
2015 EU pressed on 180g 2xLP+download-Dutch singer-songwriter, composer, multi-instrumentalist and recording artist Jett Rebel recorded his first live album Tight Like A Baby Tiger at the Paradiso in Amsterdam on 30th December 2014. 'The Year Of The...