John Mayall & Blues Breakers/John Mayall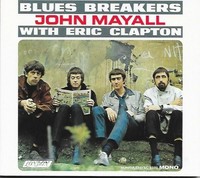 Major British blues bandleader who, starting in London in 1963, featured some of the most successful rock musicians of the '60s and '70s. 

Albums:
1965 John Mayall Plays John Mayall (Recorded Live at Klooks Kleek!) (Decca)
1966 Blues Breakers with Eric Clapton
1967 Raw Blues (mit Otis Spann, Champion Jack Dupree u. a.) (Ace of Clubs)
1967 A Hard Road
1967 Crusade
1967 The Blues Alone
1968 Bare Wires
1968 So Many Roads (Kompilation)
1968 Blues from Laurel Canyon
1968 The Diary of a Band Vol. 1 & 2 (live)
1969 Looking Back (Kompilation [1964–68])
1969 The Turning Point (Polydor)
1969 Empty Rooms
1970 USA Union
1970 Blues Giant (Kompilation)
1971 Thru the Years (Kompilation, Decca SKL 5086 [1964–68])
1971 Memories
1971 Back to the Roots (Doppelalbum)
1972 Jazz Blues Fusion
1972 Moving On (live)
1973 Ten Years Are Gone
1974 The Latest Edition
1975 New Year, New Band, New Company (ABC)
1976 Notice to Appear
1976 A Banquet in Blues (mit Rick Vito)
1977 Primal Solos (Kompilation, Decca)
1977 Lots of People (Recorded Live from the Roxy in Los Angeles)
1977 A Hard Core Package
1978 The Last of the British Blues – Live from Baltimore, Cincinnati & N.Y. (MCA)
1979 Bottom Line (DJM)
1979 No More Interviews
1980 Road Show
1982 John Mayall & The Bluesbreakers – The 1982 Reunion Concert
1985 Behind the Iron Curtain (live in Ungarn)
1987 The Power of the Blues (live in Germany April 1987)
1988 Archives to Eighties (Kompilation)
1988 Chicago Line
1990 A Sense of Place
1993 Wake up Call (Silvertone Records)
1995 Spinning Coin
1995 Uncle John's Nickel (Limited Edition)
1997 Blues for the Lost Days
1999 Padlock on the Blues
2001 Along for the Ride
2002 Stories
2003 70th Birthday Concert
2005 Road Dogs
2007 In the Palace of the King
2009 Tough (Eagle Records)
2014 A Special Life (Forty Below Records)
2015 Blues Alive NYC 1976 (RockBeat Records)
2015 Find a Way to Care (Forty Below Records) -  
1 X LP 180g vinyl 33rpm=gatefold=

-- In Stock --
2013 EU reissue on 180g vinyl audiophile LP -John Mayall's Bluesbreakers were the undisputed flag-bearers of the British Blues movement during the mid sixties. The band saw many configurations, spawning talents like Eric Clapton, Mick Taylor, Peter...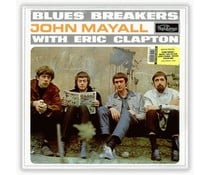 2x LP 180 gr. Remastered 33RPM + 4 bonus tracks

-- Sold Out -- But expected in again!
(Originally released in 1966)2008 Russuian reissue on 180gram VIRGIN VINYL-featuring a thrilling experience which highlights their intense search for new ways to interpret their material & captures some of their best performances it is a measure of t...