Keith Jarrett
2x LP 180gr. HQ Vinyl 33rpm

-- Sold Out -- But expected in again!
2010 German ECM reissue on 180g 2LP vinyl set=recorded at the German theatre on January 24th 1975 & featuring the blessed pianist in arguably his finest hour, playing a selection of four sustained solo improvisations with beautiful melodies housed in gate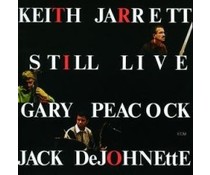 2x LP 180gr. HQ Vinyl 33rpm

-- Sold Out -- But expected in again!
Originally released in 1988 - 2013 German ECM reissue on 180 HQ vinyl 2XLP edition - Recorded live at Philharmonic Hall, Munich, Germany on July 13, 1986. Once Keith Jarrett gets into a concept, he likes to keep those tapes rolling. This two-disc liv...
1xLP 180g 33RPM+download

-- In Stock --
2016 EU reissue on 180g LP+download -1974's Treasure Island is the second of two albums famed jazz pianist/composer/bandleader Keith Jarrett cut for the Impulse label following 1973's Fort Yawuh. Jarrett handles soprano saxophone and piano duties w...