Killers
2x LP 180g RED vinyl +book+poster

-- In Stock --
2012 EU issue on 180g RED vinyl 2xLP-From out of the wreckage of the American Civil War, the great state of Nevada came into being on October 31st, 1864. Its creation immediately helped to secure the re-election of Abraham Lincoln, the passage of the...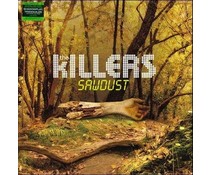 2x LP standard 33rpm

-- Sold Out -- But expected in again!
2007 EU issue on 2LP -comprising a collection of their b-sides and rarities including 'Tranquilize' [featuring Velvet Underground's Lou Reed], their cover version of Joy Division's 'Shadowplay' [from Anton Corbijn'sbiopic, 'Control'], as wel...