Kruder & Dorfmeister
5x LP 180g 33rpm

-- Sold Out -- But expected in again!
2015 EU remastered on 180g 5LP+download- Viennese trippers Peter Kruder and Richard Dorfmeister fry up beats like a fine Wiener schnitzel. With crisp percussion, tender melodies, and subtle bass flavor, they more than know their way around the produc...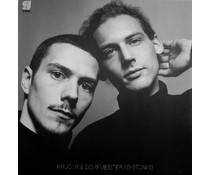 1x EP

-- In Stock --
2015 G-stoned repressed in 12 inch EP single from the 1993 Remix DJ's who have remixed tracks for Madonna. Includes Definition, Deep Shit Pt 1 & Pt 2, High Noon & Original Bedroom Rockers, picture sleeve

Tracks:
A1 Definition
A2 Deep Shit Pt.1 ...