K's Choice
2x LP 180g 33rpm

-- Sold Out -- But expected in again!
2015 EU reissue on 180g 2xLP- Paradise In Me is the second album by the Belgian band K's Choice. Six singles were released from the album: "A Sound that Only You Can Hear", "Mr. Freeze", "Not an Addict", "Wait", "Dad" and "Iron Flower". ...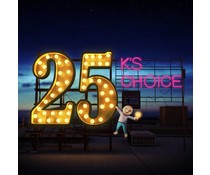 2x LP Standard 33rpm+ 2xCD

-- In Stock --
2017 EU issue on standard 2LP =Naar aanleiding van hun 25-jarig bestaan brengt K's Choice op 24 maart een ultieme Best Of uit! Bekende nummers zoals 'God In My Bed', 'Everything For Free', 'Dad', 'Believe' en natuurlijk 'Not An Addict' ontbreken niet...