Kurt Vile
2x LP HQ Vinyl 33rpm=download=

-- Sold Out -- But expected in again!
2014 EU issue on LP vinyl 2XLP+download-Kurt Vile is slowly, quietly becoming one of the great American guitarists and songwriters of our time. This 69-minute double album is comprised of sweeping, expansive songs that are both very intimate and conv...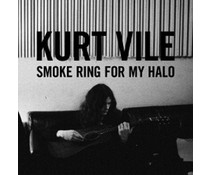 1x LP 33rpm vinyl

-- In Stock --
2011 EU issue on vinyl LP=Philadelphia singer/songwriter Kurt Vile returns with his second proper album (2008's Childish Prodigy was a compendium of sorts). Smoke Ring For My Halo is a gorgeously layered record. Ranging from the tender breezy folk in...