Muse
1x LP 180g 33rpm

-- Sold Out -- But expected in again!
Orignally released in 2006-2009 US reissue on high quality vinyl- who finally achieved international stardom with their 2003 album, Absolution.In 2004 UK favorite Muse broke through in the US with Absolution and major performances across America that...
2x LP 180g 33rpm=gatefold=

-- Sold Out -- But expected in again!
2012 EU issue on 180g 2LP- As Howard accurately describes it, The 2nd Law brims with "wild" sounds. It's exactly what Muse had in mind when they sat down last October after the completion of the two-year Resistance world tour. Within four quick we...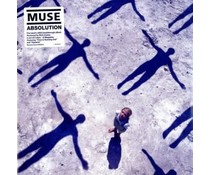 2x LP HQ Vinyl

-- In Stock --
Orginally released in 2003-2009 US vinyl edition 2LP set on 180g vinyl -Because Sound Matters-INcludes the tracks Time Is Running Out and Hysteria which have never sounded better than on this fantastic pressing Presented in SEALED & stickered gatefol...