Prodigy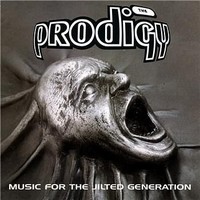 2x LP 180g 33rpm

-- In Stock --
2008 EU repress on 180g 2LP set=the 1997 3rd longplayer from the original Romford ravers, including the classic singles"Firestarter," "Breathe" & "Smack My Bitch Up" and "Serial Thrilla" picture sleeve printed inner bags. Sealed.
2x LP 180g 33rpm

-- Sold Out -- But expected in again!
2008 EU repress on 2LP set = The subsequent range of styles, tempos & flavours on 1994 'Music For The Jilted Generation', was breathtaking; from the darkly brooding delinquency of 'Break & Enter' to the hard & fast techno metal of 'Their Law' ...