Specials, the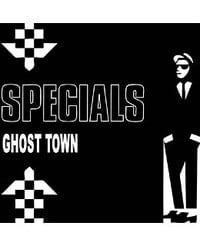 True innovators of the punk era, the Specials began the British ska revival craze, combining the highly danceable ska and rocksteady beat with punk's energy and attitude, and taking on a more focused and informed political and social stance than their predecessors and peers.
Albums:
Specials (1979)
More Specials (1980)
In the Studio (1984)
Today's Specials (1996)
Guilty 'til Proved Innocent! (1998)
Skinhead Girl (2000)
Conquering Ruler (2001)
Ghost Town (2004)
Greatest Hits (2006)
More...Or Less. The Specials Live (2012)
2x LP 180g 33rpm =gatefold=

-- In Stock --
2012 UK reissue on 180g 2LP-The Specials Live album of the highly influential British ska godfathers running through spirited live versions of their classic first two albums and more notable singles, "Ghost Town," "A Message To You Rudy" and "Gangste...
1 x LP 33rpm

-- In Stock --
2017 pressing on vinyl LP -Singles collection from the only ska band that mattered, The Specials. Features the all time classics "Ghost Town," "Rudi, A Message To You " and "Gangsters"