Stacey Kent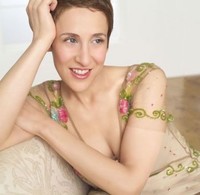 Stacey Kent (1968 - ) is a Grammy-nominated[1] American jazz singer.
Discography:
    Close Your Eyes (1997, Candid)
    Love Is...The Tender Trap (1999, Candid)
    Let Yourself Go: Celebrating Fred Astaire (2000, Candid)
    Dreamsville (2001, Candid)
    In Love Again: The Music of Richard Rodgers (2002, Candid)
    The Boy Next Door (2003)
    Breakfast on the Morning Tram (2007, Blue Note/EMI)
    Raconte-moi... (2010, Blue Note/EMI)
    Dreamer In Concert (2011, Blue Note/EMI)
    The Changing Lights (2013, Parlophone Music/Warner)
2XLP 180g 33rpm

-- Sold Out -- But expected in again!
2017 EU issue on 180g 2LP= the first orchestral album by Stacey Kent. On "I Know I Dream" she presents three French songs from her beloved core repertoire - Juliette Gréco's "Les Amours perdues" (originally by Serge Gainsbourg), Nino Ferrer's ....
1x LP 180g 33rpm

-- In Stock --
2009 UK reissue on 180 gram LP-Stacey Kent is back with her regular combo for an engaging tribute to Richard Rodgers In addition to routinely covered songs like It Never Entered My Mind and Bewitched the Britainbased vocalist looks to the South Pacific bo