Triggerfinger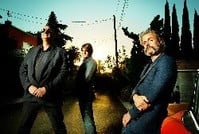 Triggerfinger is a Belgian rock band from Lier, Belgium, formed in 1998. The band consists of vocalist and guitarist Ruben Block, bassist Paul Van Bruystegem and Mario Goossens as drummer.
Studio albums
    Triggerfinger (2004)
    What Grabs Ya? (2008)
    All This Dancin' Around (2010)
    By Absence Of The Sun (2014)
Live albums
    Faders Up (2007)
    Faders Up 2 - Live in Amsterdam (2012)
1x LP 180 gr.33rpm=white=

-- In Stock --
2017 EU issue on 180g white LP- Colossus is the new Triggerfinger album. The album contains the solid new single 'Flesh Tight' with killer guitar riffs, breezy melodies, festive glam rock and a brain-teasing production. The trio from Antwerp consisting
2x LP 180gr. HQ Vinyl 45rpm=Limited=+ CD

-- In Stock --
2014 EU limited issue on 180g 45RPM vinyl 2-LP+CD -Never change a winning team. It was obvious that Triggerfinger for the sequel to 'All This Dancin' Around "(2010) again two months to Los Angeles would pull to check-in their favorite Hollywood Do...