Twenty one Pilots
1xLP 33rpm=clear vinyl=donwload

-- In Stock --
2015 US issue on CLEAR vinyl LP-Vessel is a complex collection of songs that shows why twenty one pilots as added to Fueled By Ramen's extremely selective roster. The band entered a real studio for the first time ever with Grammy nominated producer ...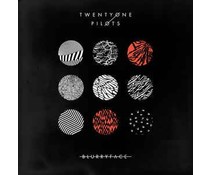 2xLP standard 33rpm

-- Sold Out -- But expected in again!
2015 EU issue on standard 2LP- Twenty One Pilots landed at the top of the Billboard Charts with their triumphant sophomore studio album Blurryface. The record takes the band's explosive mix of hip-hop, indie rock and punk to the next level, with so...