Van Halen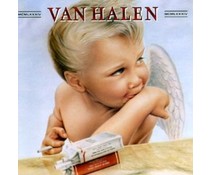 1x LP 180 gr.33rpm = Cut from the Original Analog Master Tapes

-- In Stock --
2011 EU repressing on 180 g LP-1984 written as MCMLXXXIV on the front cover is the 6th studio album by Van Halen, which includes a number of the band s most legendary songs such as the #1 hit, "Jump," "Panama," and "Hot For Teacher."
1x LP 180 gr.33rpm = Cut from the Original Analog Master Tapes

-- In Stock --
2010 EU reissue on 180g LP, cut from the original analog master tapes -Van Halen flexed their artistic muscles for this 1980 album, with tracks "And the Cradle Will Rock", "Everybody Wants Some", "Romeo Delight" and "In A Simple Rhyme". which...
1x LP 180 gr.33rpm

-- In Stock --
2009 reissue on 180g LP= From 1978 An eruption of pure rock Van Halens RIAA certified mul...Considered one of the greatest debut albums in rock history, features some of rock radio's most played songs of all time like "Runnin' With The Devil," "Ain't...