Producten getagd met Book
256 pagina's full-color gebonden

-- In Stock --
Mike Evans verschaft een schitterende visuele blik op de fascinerende geschiedenis en de triomfantelijke wedergeboorte van het medium Vinyl. Van de zware 78 toerenplaten tot de dynamische 45 toerensingles, van buitenissige ep's tot legendarische lp's...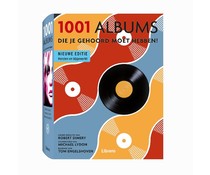 960 pagina's full-color gebonden

-- In Stock --
Vernieuwd, uitgebreid en up-to-date gebracht; 1001 Albums bevat de allergrootste albums, van Marvin Gayes inspirerende What's Going On uit 1971 – een reactie op de terugkeer van zijn broer uit Vietnam – tot David Bowies bijzondere conceptalbum The R...
1XBOOK = 591 pages =hard cover

-- In Stock --
In the space of just seven years, the Beatles released twelve landmark albums and 22 groundbreaking singles - a total of 208 songs that would influence artists and musicians for decades to come. And the Band Begins to Play is the definitive guide to ...