Bill Evans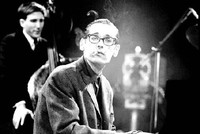 William John Evans (better known as Bill Evans) was one of the most famous and influential American jazz pianists of the 20th century. His use of impressionist harmony, inventive interpretation of traditional jazz repertoire, and trademark rhythmically independent, "singing" melodic lines influenced a generation of pianists.
Discography:
1956     New Jazz Conceptions
1958     Everybody Digs Bill Evans
1958     Modern Art
1959     On Green Dolphin Street
1959     The Ivory Hunters
1959     Portrait in Jazz
1961     Explorations
1961     Sunday at the Village Vanguard
1961     More from the Vanguard
1961     Waltz for Debby
1961     Know What I Mean?
1962     Empathy
1962     Moonbeams
1962     Interplay
1962     How My Heart Sings!
1963     The Gary McFarland Orchestra: Special Guest Soloist Bill Evans
1963     Trio '64
1963     Conversations with Myself
1963     Undercurrent
1963     Plays the Theme from V.I.P. and Others
1963     At Shelly's Manne-Hole
1963     Time Remembered
1964     Trio Live
1964     Nirvana
1965     Trio '65 album
1965     Bill Evans Trio with Symphony Orchestra
1966     Bill Evans at Town Hall
1966     A Simple Matter of Conviction
1966     Intermodulation
1967     Further Conversations with Myself    
1967     California Here I Come
1968     At the Montreux Jazz Festival
1968     Bill Evans Alone
1968     At the Montreux Jazz Festival
1969     Quiet Now
1969     What's New/Nirvana
1970     Montreux II album review t to Right
1970     From Left to Right
1971     The Bill Evans Album
1972     Live in Paris 1972, Vol. 2
1972     Live in Paris 1972, Vol. 1