Kraftwerk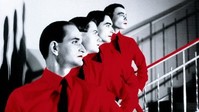 Kraftwerk is a German band from Düsseldorf founded by Ralf Hütter and Florian Schneider-Esleben in 1970 and is still active. Kraftwerk has had a major influence on the development of electronic music.
Albums:
    Kraftwerk (1970)
    Kraftwerk 2 (1972)
    Ralf und Florian (1973)
    Autobahn (1974)
    Radio-Activity (1975)
    Trans-Europe Express (1977)
    The Man-Machine (1978)
    Computer World (1981)
    Electric Café (1986; name changed to Techno Pop in 2009)
    Tour de France Soundtracks (2003)
1x LP 180g 33rpm =remastered=

-- In Stock --
2010 reissue on 180g LP-the 7th studio album from the Krautrock pioneers, The Man Machine features the singles "The Robots", " The Model" & "Neon Lights." Comes complete with a picture booklet containing newly redesigned cover art and rare phot...
2x LP 180gr. HQ Vinyl 33rpm

-- Sold Out -- But expected in again!
2009 EU remastered on 180g 2LP=Tour De France features the single Tour De France Comes complete with a picture booklet containingrare photographs i...
1x LP 180 gr.

-- In Stock --
(Originally released in 1974)2009 reissue EU digitally remastered LP edition, pressed on 180g Vinyl -An epic ode to the joys of highway travel, Autobahn wraps a mesmerizing beat around a sampled collage of car horns, engine noise, whirring tires and...