T. Rex (Tyrannosaurus Rex)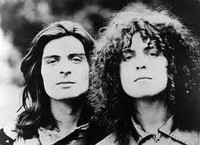 T. Rex were a British rock band, formed in 1967 by singer-songwriter and guitarist Marc Bolan. The band formed as Tyrannosaurus Rex, releasing four underground folk albums under the name. Tony Visconti (their producer for several albums) claimed in a documentary on the band that he had taken to using the abbreviated term "T. Rex" as a shorthand, something that initially irritated Bolan, who gradually came around to the idea and officially shortened the band's name to "T. Rex" at roughly the same time they started having big hits (shortly after going electric).
In the early to mid 1970s, the band reached huge success with fourteen top-20 UK glam rock hits: "Jeepster", "Get It On", "Ride a White Swan", "Solid Gold Easy Action", "Children of the Revolution", "Hot Love", "Telegram Sam", "20th Century Boy", "Debora", "Teenage Dream", "The Groover", "New York City", "I Love To Boogie" and "Metal Guru". During this period the band also released six UK top-30 albums, including Electric Warrior, which hit the top of the album charts. In 1977, Bolan was killed in a car accident, and the band broke up.
Discography:
As Tyrannosaurus Rex
    My People Were Fair and Had Sky in Their Hair... But Now They're Content to Wear Stars on Their Brows (1968)
    Prophets, Seers & Sages: The Angels of the Ages (1968)
    Unicorn (1969)
    A Beard of Stars (1970)
As T. Rex
    T. Rex (1970)
    Electric Warrior (1971)
    The Slider (1972)
    Tanx (1973)
    Zinc Alloy and the Hidden Riders of Tomorrow (1974) * Light of Love (U.S. Release Only, 1974)
    Bolan's Zip Gun (1975)
    Futuristic Dragon (1976)
    Dandy in the Underworld (1977)
1x LP 180g.33rpm

-- In Stock --
( 1971 ) - 2014 EU EU reissue on 180g viny -This 1971 Classic featuring 11 glam rock masterpieces including 'Bang A Gong [Get It On]' and 'Jeepster',
1x LP 180 gr.33rpm vinyl +downlaod

-- In Stock --
( 1970 ) - 2014 EU repressed on 180g vinyl LP+download-The fifth Tyrannosaurus Rex album was also the first T. Rex set, as Marc Bolan abbreviated the band name at the same time as enlarging everything else — most notably the group'...