Alamo Race Track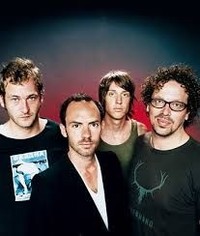 Alamo Race Track is a rock band from Amsterdam, Alamo Race Track is an alternative rock band from Amsterdam, the Netherlands. The band has released three albums, which Unicorn Loves Deer from 2011 is the most recent. The band scored with the title track of their second album Black Cat John Brown a hit on YouTube.
Discography:
Birds at home (2003)   
Black cat John Brown (2006)
Unicorn loves deer (2011 )
1x LP 33rpm vinyl + CD

-- In Stock --
2011 EU issue on standard LP - Alamo Race Track, de hofleveranciers van het spannende gitaarpopliedje met een twist, zijn terug. Op Unicorn Loves Deer (maart 2011) laten de Amsterdammers horen dat ze nog steeds meesters zijn in het maken van bloedmoo...