USB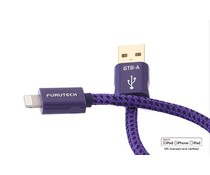 colorful and engaging sound

-- In Stock --
The GT8-A is no ordinary cable; it's engineered and produced with Furutech's Pure Transmission technology and features α (Alpha) OCC Silver Copper alloy conductor (28AWG) for minimal transmission loss and 24k gold-plated USB A-type connector. The cab...
Black or Silver available

-- Sold Out -- But expected in again!
For listening & recording of vinyl records! Phono Box USB is an ideal phono preamplifier for both your hifi system and vinyl recording to PC or Mac. MM and MC cartridges will be welcome. The analogue output of Phono Box USB can easily be connect...