Cartridges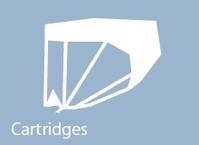 De ingang van uw versterker dient geschikt te zijn voor het gekozen element. Op een versterker met omschakelbare phono ingang, MM of MC, kunt u elk element kiezen. 
Wanneer u enkel een MM ingang hebt kunt u toch een MC element gebruiken, maar dan met een phono voor-versterker op een line-ingang van de versterker, of een phono pre-pre op de MM ingang.
MM staat voor Moving Magnet, dan beweegt de naald een magneet tussen gefixeerde spoelen.
MC staat voor Moving Coil, dan beweegt de naald miniatuur spoelen tussen gefixeerde magneten. Bij een MC element is de naald niet eenvoudig te vervangen.
Buiten het karakter en de specificaties van een element is het belangrijk dat er een match is tussen element en toonarm. Wij kunnen aan de hand van de compliantie van het element en de specificaties van de toonarm voor u bekijken of een element optimaal zal kunnen presteren. Er zijn diverse combinaties denkbaar die echt niet kunnen. Neem gerust contact met ons op voor een advies.
Speel nooit stereo grammofoonplaten af met een mono element, het element kan kapot gaan en de grammofoonplaat zal eerder slijten.
Nice to read: The 
Audio Technica Cartridge Glossary