Anne Soldaat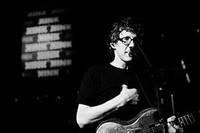 Anne Soldaat (1965 -) is a Dutch guitarist, singer and songwriter. From around 1990 he played guitar in the band Daryll-Ann, where Jelle Paulusma and he wrote the music and lyrics for the band broke up in 2004. Anne Soldaat then founded the band Do-The-Undo, which in 2007, his only album released on Excelsior Recordings. In April 2009 Soldier released under his own name the album In another life out. He currently plays in the live band Tim Knol.
1x LP standard 33rpm+ bonus CD

-- In Stock --
2012 EU pressing on 150g Lp+bonus CD=Anne Soldaat is perhaps the most at ease with a guitar in his hands Not playing is not an option after the release of his critically acclaimed solo album In Another Life 2009 he toured with his own band immediatel...