Fat Freddys Drop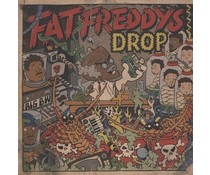 2XHQ LP 33rpm vinyl

-- Sold Out -- But expected in again!
2009 German repressed on vinyl - This Maori/Samoan/New Zealander band claims influences as diverse as highlife, Berlin techno, and bhangra, but what their music sounds like most consistently is a strangely modern and soulful version of jazzy reggae. ...
2x LP Standard 33rpm

-- In Stock --
2015 EU issue on 180g 2xLP-Fat Freddy's Drop are set to release their fourth studio album, Bays, in October 2015. Following the worldwide success of Blackbird in 2013, the New Zealand based seven-piece are back with Bays, a 9-track LP recorded at th...
2XLP +download 33rpm vinyl

-- Sold Out -- But expected in again!
2013 EU issue pressed on Vinyl double LP+download-Heavyweight soul providers Fat Freddy's Drop take flight once again with their third full-length release Blackbird.Featuring nine tracks, Blackbird was written and recorded at Bays, the band's own stu...