Gregory Porter
2x LP Standarrd vinyl 33rpm

-- Sold Out -- But expected in again!
2013 EU issue on 2LP audiophile vinyl -The Man of the moment Gregory Porter makes his third album and major label debut on Blue Note.Gregory's pure voice and his accessible jazz music has a timeless quality, and the songs on this set will further enhanc..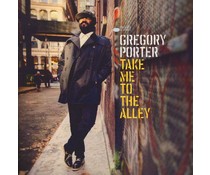 2x LP 180gr. Vinyl 33rpm

-- In Stock --
2016 EU issue on 180g 2LP-An artist whose music is at once timeless yet utterly of its time, Gregory Porter solidifies his standing as his generation's most soulful jazz singer-songwriter with the May 2016 release of Take Me to the Alley, the much-a...
2x LP 180gr. Vinyl 33rpm

-- In Stock --
2017 EU issue on 180g 2LP =On his fifth studio album, 2017's lovingly produced Nat "King" Cole & Me, singer Gregory Porter takes a purposefully traditional approach, paying tribute to one of his biggest influences, legendary vocal icon Nat King Cole. "