Alice in Chains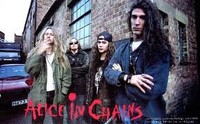 Alice in Chains is an American rock band formed in Seattle, Washington, in 1987 by guitarist and songwriter Jerry Cantrell and original lead vocalist Layne Staley. The initial lineup was rounded out by drummer Sean Kinney, and bassist Mike Starr (who was replaced in 1993 by Mike Inez).
Albums:
    Facelift (1990)
    Dirt (1992)
    Alice in Chains (1995)
    Black Gives Way to Blue (2009)
    The Devil Put Dinosaurs Here (2013)
2x LP 180 gr.33rpm audiophile virgin Vinyl

-- Sold Out -- But expected in again!
2010 reissue on 180 gram audiophile 2xLP-The full MTV Unplugged live performance in 1996, adding another dimension to Layne Stayley's vocals in these acoustic versions of their best material.

The band performed songs from Dirt and Alice In Chain...