Barbra Streisand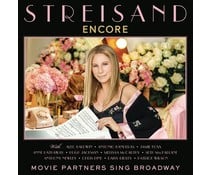 1x LP standard 33rpm

-- In Stock --
2016 EU issue on standard LP-The greatest star to ever come out of Broadway, Barbra Streisand returns to her roots with the new Columbia Records release Encore: Movie Partners Sing Broadway. The album features duets with movie stars like of Alec Bald...
2x LP 180gr. HQ Vinyl 33rpm + CD

-- Sold Out -- But expected in again!
2014 EU reissue in 180g 2-LP Vinyl="Partners" is Barbra Streisand's new album, featuring 12 inimitable new Streisand duets with the world's greatest male vocalists. This is the legendary artist's first duets album in more than a decade, and deb...