Basement Jaxx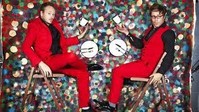 Basement Jaxx is a British DJ duo, comprising Felix Buxton and Simon Ratcliffe. Their music is characterized by funky bass, salsa rhythms, house lines, delicate vocals and lots of humor.
Albums:
Remedy   -1999    
Rooty       -2001
Kish kash -2003
The singles -2005
Crazy Itch Radio -2006    
Scars -2009
2x LP 180g 33rpm = remastered =

-- In Stock --
2011 EU reissue on 180g deluxe 2LP-Basement Jaxx's long-awaited 1999 debut album was one of the most assured, propulsive full-lengths the dance world had seen since Daft Punk's Homework.
including 'Red Alert", "Rendez-Vu" and "Bingo Bango".
2x LP Standard 33rpm

-- In Stock --
2006 EU vinyl edtion-This album swerves from the all-out drama on the operatic "Intro" straight into the jet-packed kaleidoscopic pop of "Hush Boy". Next is "Take Me Back To Your House", a sexy, energetic moment of what they call "banjo house....